BMW ACCIDENT SUPPORT.
BMW Accident Support ensures that you'll never have to face an accident alone. If you call on 0344 335 0284, you will be connected immediately to a dedicated team of professionals operated, administered and provided by Enterprise Rent- A Car Limited on its own behalf, who will look after you throughout. They will arrange for your car to be recovered and repaired at your preferred BMW Approved Bodyshop, as well as help you manage the claims process with your insurer to minimise the hassle. Our team can also arrange a replacement vehicle for you, both in fault and non-fault cases, and you'll always be kept up to date on the status of the repairs through the Repair Tracker. BMW Accident Support is available to any BMW owner, regardless of how old your BMW is.

Should you need support with small repairs, you can request an estimate now and we'll put you in touch with your local BMW Approved Bodyshop.
Read more
WHY CHOOSE A BMW APPROVED BODYSHOP?
Should the worst happen, we'll make sure that your pride and joy gets the best care. From small scuffs and dents to more substantial damage, BMW Approved Bodyshops offer a complete range of car repair options that will keep your BMW looking like new. Using a BMW Approved Bodyshop ensures that only Genuine BMW Parts, which come with a Lifetime Workmanship Guarantee*, and the latest Approved BMW repair techniques, are used. This means your BMW maintains its original Euro NCAP safety rating. In addition, you'll benefit from our dedicated BMW Accident Support Service, the most efficient way of accessing a BMW Approved Bodyshop and getting the support you need when you've had an accident. This service allows our teams to manage your repairs with your insurer and preferred BMW Approved Bodyshop, guaranteeing that your BMW will receive the care it deserves from expert BMW Technicians.
Read more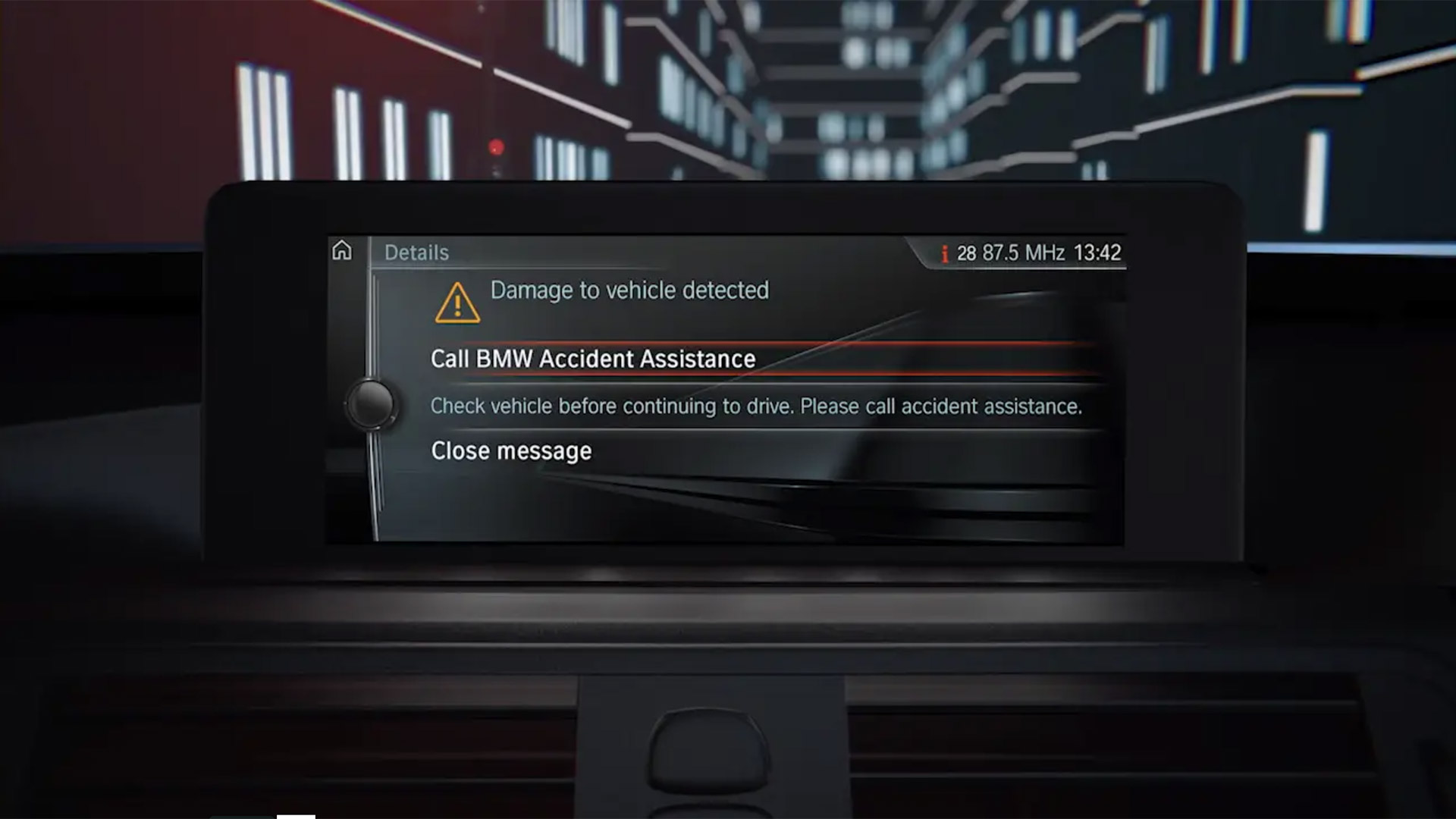 VEHICLES FITTED WITH BMW ACCIDENT CALL.
BMWs fitted with Accident Call will be able to instantly detect if you've been involved in an accident with subsequent damage to the vehicle, and alert you through the iDrive screen. You will be prompted to initiate Accident Call and be quickly connected with a BMW Accident Support agent. The agents, operated by Enterprise – Rent – A – Car Limited and acting on its own behalf, will support with Emergency Services if required, arrange vehicle recovery and, if instructed to do so, share your details with your preferred BMW Approved Bodyshop for repairs. They will also take charge of the claims process with your insurer to ensure that your BMW receives the best care from your preferred BMW Approved Bodyshop.
If your BMW is fitted with BMW Emergency Call, in the event of a major accident where airbags are deployed, your car will contact Emergency Services automatically. All new BMWs are fitted with this feature as standard.
Read more
Terms and Conditions.
BMW Accident Support is a service operated, administered and provided by Enterprise Rent-A-Car UK Limited on its own behalf. Enterprise Rent-A-Car UK Limited is a company incorporated in England & Wales with registered number 2946689, whose registered office is at Enterprise House, Melburne Park, Vicarage Road, Egham, Surrey, TW20 9FB.

*Lifetime Workmanship Guarantee Terms and Conditions Apply, click here for the full terms and conditions.
Read more
ONLINE GENIUS:
Question: Can I get my BMW serviced or repaired during the Coronavirus period?

Answer: As a responsible company, the health and safety of our customers, partners and staff is of paramount importance to us.

Due to local Government guidance, the services available at your BMW Centre will differ. To check whether your local BMW Approved Bodyshop is open and the services currently offered, contact them directly by telephone or on their website.

We have implemented additional measures to thoroughly clean your BMW and further details can be found here.

In the unfortunate case of an accident, your BMW Accident Support can quickly arrange repairs with your preferred BMW Approved Bodyshop, on your behalf. Please find further details above.

Question: What is the guarantee on BMW parts?

Answer: By using Genuine BMW Parts, you can be assured that your vehicle will be restored to the same exacting standards that it was originally created to. In addition, every Genuine BMW Part comes with a two-year, fitted parts warranty. Every one of the 20,000 components that typically make up your BMW is the product of an incredible amount of thought and expertise. Ensure that you receive and retain the best quality and performance by only replacing with Genuine BMW Parts.

Question: How do I know how much my vehicle's repair will cost?

Answer: You can find out how much the repair work on your BMW will cost by either requesting an estimate or speaking directly with your local BMW Approved Bodyshop.

Question: What do I do if my BMW requires a major repair?

Answer: You can contact BMW Accident Support by calling 0344 335 0284 and have your vehicle towed to a BMW Approved Bodyshop where any major repairs can be carried out. If your BMW has the required technology, you'll be able to activate the Accident Call feature by responding to the prompt from your iDrive screen. It will detect damage and offer to directly connect you to an agent, who will manage the claims process with your insurer to make sure you and your BMW get the very best care.

BMW Car Insurance.

Protect your new BMW with the cover it deserves with BMW's fully comprehensive insurance policy. Benefits include: access to a courtesy car whilst yours is being repaired, 24-hour access to motoring legal advice and replacement of broken or damaged glass with no effect on claims discounts.

Find out more about our Defaqto 5-star rated BMW Car insurance and the range of other BMW Insurance Solutions products available.

Do you have any more questions?
Read more