WHO IS IT FOR?
We understand that when you take out a finance agreement, you may not be sure what you'll want to do at the end of it. This product is perfect if you are looking to combine flexibility with low monthly payments.
Read more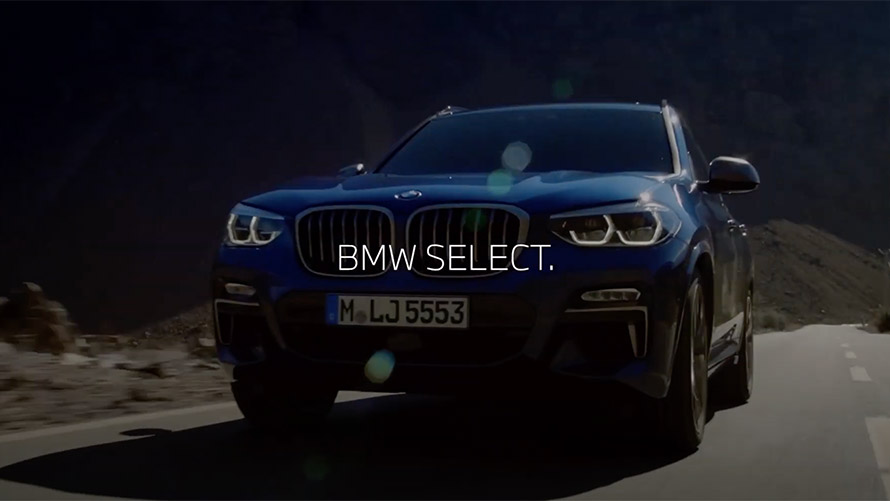 HOW IT WORKS.
Begin by choosing which BMW model is right for you. Then, decide how much you are able to put down as a deposit, how long you want the agreement to last (between 24 and 60 months) and what your average annual mileage is likely to be. Next – and this is what really sets BMW Select apart – we take a portion of the cost of your BMW and freeze it until the end of your finance agreement. This becomes your optional final payment and also reduces your monthly payments.** To work out the size of this optional final payment, we use our expertise to estimate what your BMW will be worth when your finance agreement ends. This is why we also refer to it as your BMW's Guaranteed Future Value (GFV).

PAY LESS THAN YOU THINK.
Deferring part of your BMW's value until the end of your agreement could make your monthly payments significantly smaller, giving you the flexibility to opt for the right model within your budget.
Read more
THE CHOICE IS YOURS.
At the end of your agreement, you will be asked to choose between three options:

1. Pay the optional final payment and keep your BMW.**

2. Part-exchange your BMW for a new one.***

3. Return your BMW and, as long as you have not exceeded the mileage allowance and it has been well looked after, there will be nothing more to pay.****

In both the first two options, if the value of your car is more than what we predicted for you in the Guaranteed Future Value (GFV), you will benefit. If the market value is lower than our GFV prediction, you can choose to return the car to us with nothing further to pay, other than any excess mileage or damage charges.****
Read more
YOUR NEXT STEPS.
To explore our latest finance offers or find BMW Approved Used Cars, please click the following links:
Read more
​
Terms and conditions
*If you wish to discuss different arrangements, your BMW Retailer will be able to advise you of your options.

**The optional final payment is payable at the end of the agreement if you decide to purchase the vehicle. We remain the owner of the vehicle during the agreement and we may become entitled to recover the vehicle if you do not keep up your repayments.

***If you part exchange the vehicle for a new BMW, any surplus in the vehicle's part exchange value over the optional final payment (and option to purchase fee) can be used as a deposit towards a new BMW.

****If the vehicle's value is less than the optional final payment, you can hand it back to us without paying the optional final payment. However additional charges may be payable for both excess mileage (actual mileage higher than agreed contract mileage) and vehicle condition (using the standards set by the British Vehicle Rental and Leasing Association BVRLA vehicle condition guide). If your agreement is regulated by the Consumer Credit Act, this contractual option will be in addition to your statutory right to end the agreement early.

Finance is subject to status and available to over 18s in the UK only. Guarantees and indemnities may be required. Advertised finance is provided by BMW Financial Services (GB) Limited, Summit ONE, Summit Avenue, Farnborough, Hampshire GU14 0FB.