OTR† price from
Length
Height
Width (incl. mirrors)
Unladen weight
Towing weight (unbraked)
Towing weight (braked)
Boot capacity
Acceleration (0-62mph)
Power (hp)

BIK from

£80,295
4,726mm
1,669mm
2,138mm
1,970kg
750kg
2,500kg
550 litres
4.1 seconds
510hp

37%
HIGHLIGHTS.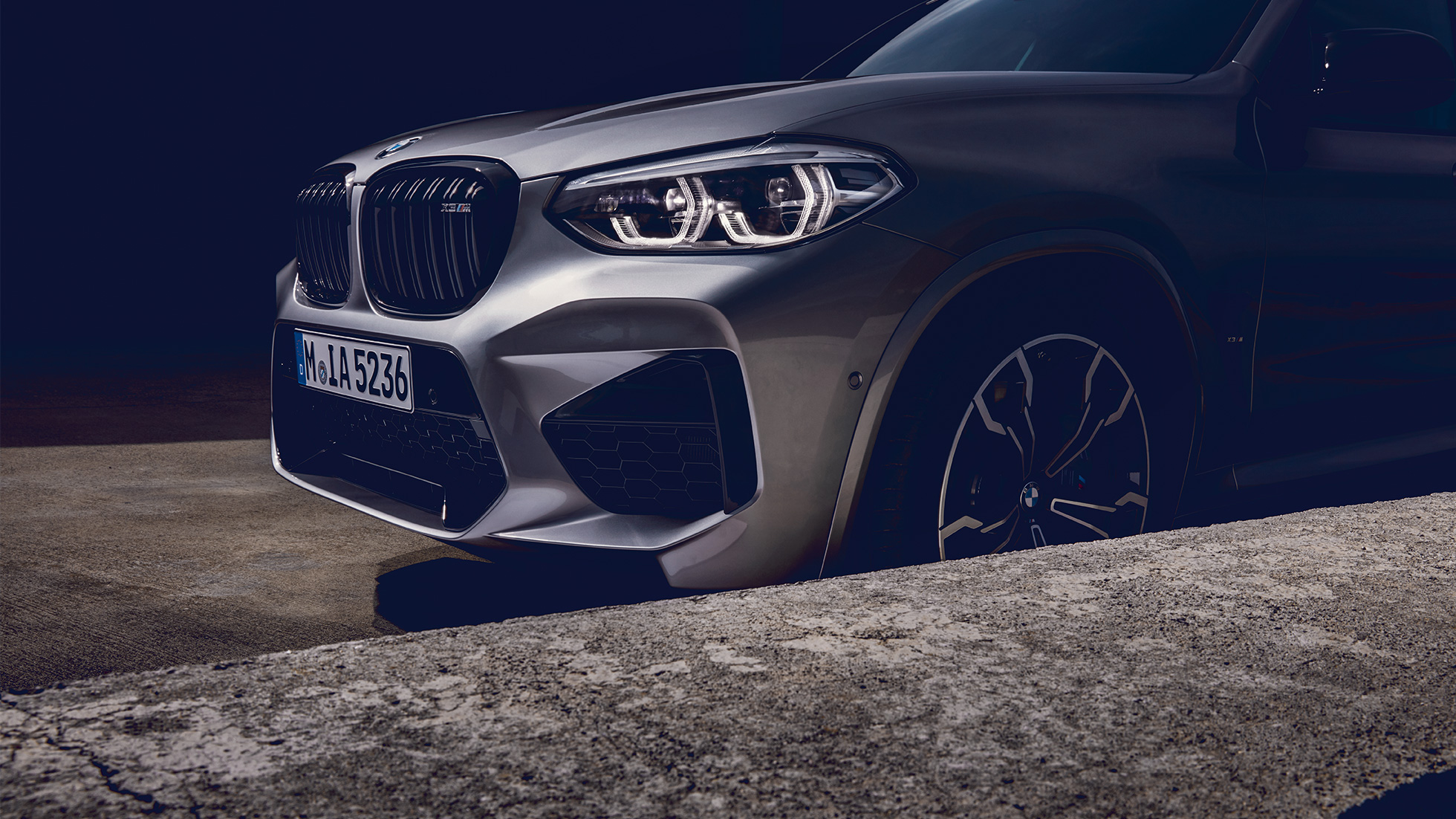 PEAK POWER.
The high-revving M TwinPower Turbo 3.0-litre biturbo petrol engine of the BMW X3 M Competition develops an impressive 375 kW (510 hp) and massive torque of 600 Nm.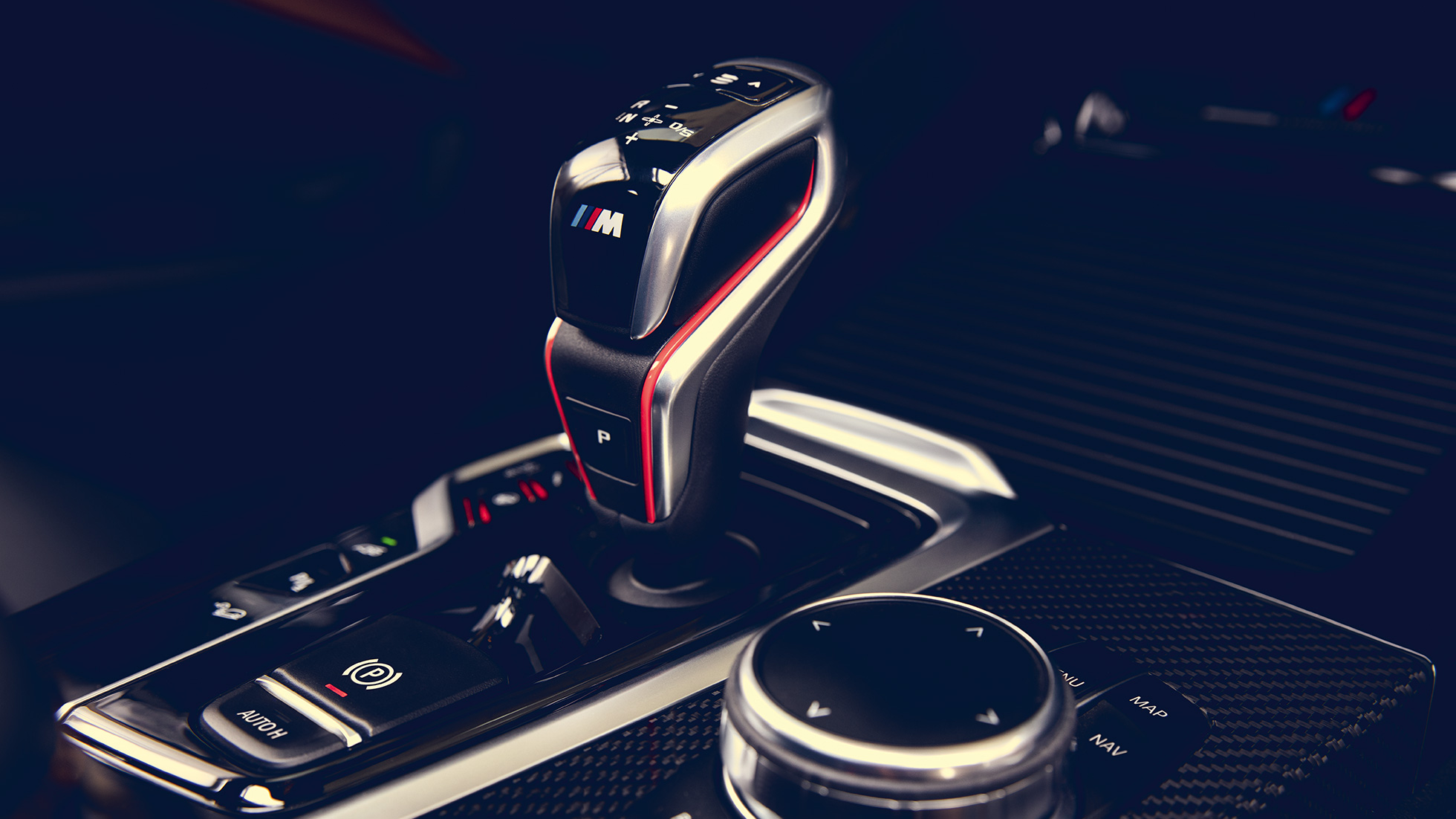 MAXIMUM DRIVING PLEASURE.
The combination of M xDrive and Active M differential, M specific suspension and M Servotronic steering as well as 8-speed M Steptronic transmission deliver maximum performance, agility and precision.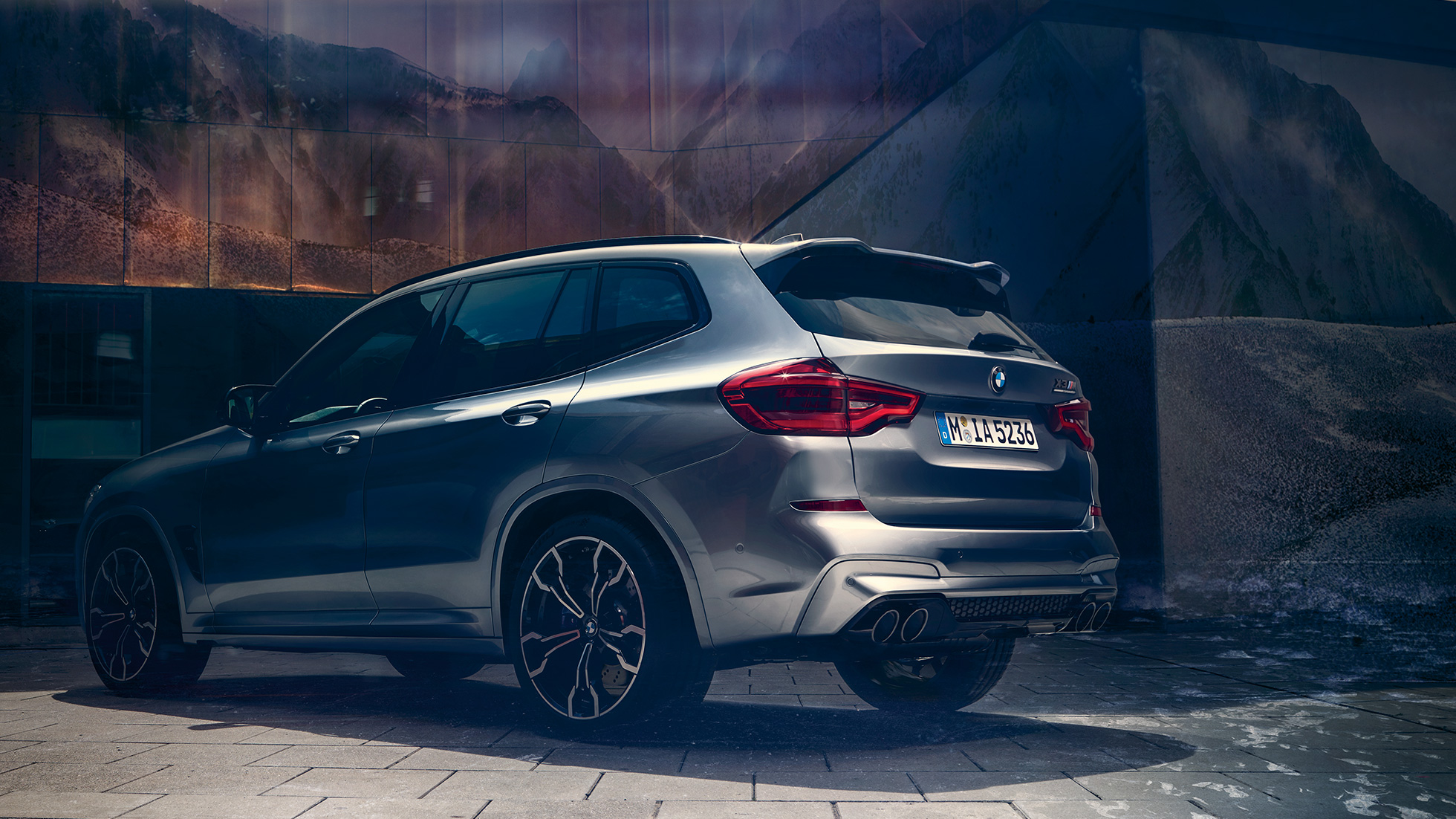 ATHLETIC STATURE.
The BMW X3 M Competition presents an exterior of exciting dynamics. Its powerful form and emotional design create an impressive fusion of performance-oriented sportiness and high-quality exclusivity.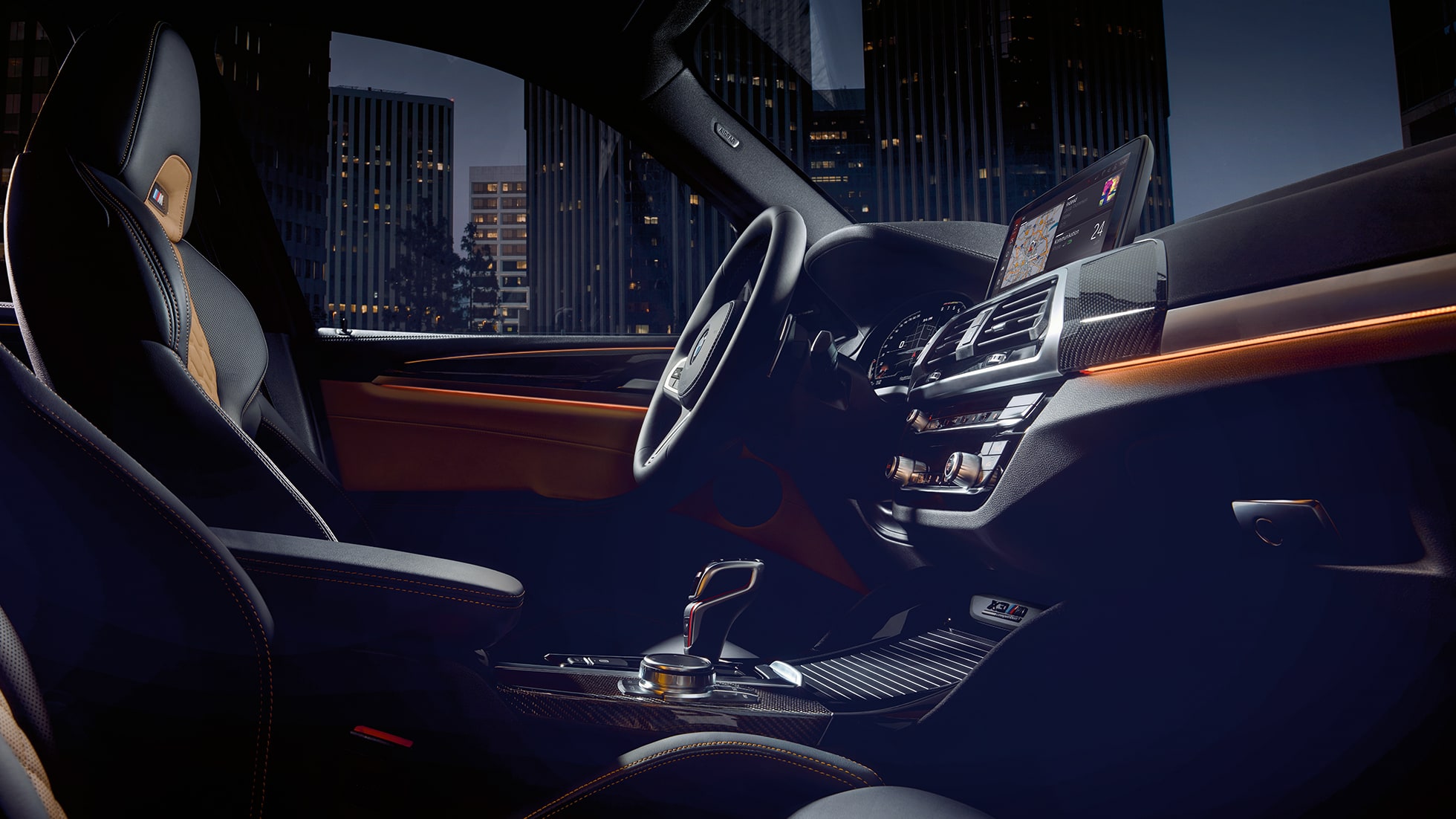 EXCLUSIVE SPORTINESS.
The interior of the BMW X3 M Competition uniquely combines ergonomics and sportiness with maximum exclusivity and perfect craftsmanship.
510hp.
Equipped with two turbochargers, high-pressure injection and Valvetronic, the M TwinPower Turbo 3-litre high-rev engine of the BMW X3 M Competition is thoroughly primed for high-performance. The performance figures tell their own story: 510 hp, 600NM of torque and just 4.1 seconds to go from 0 to 62mph.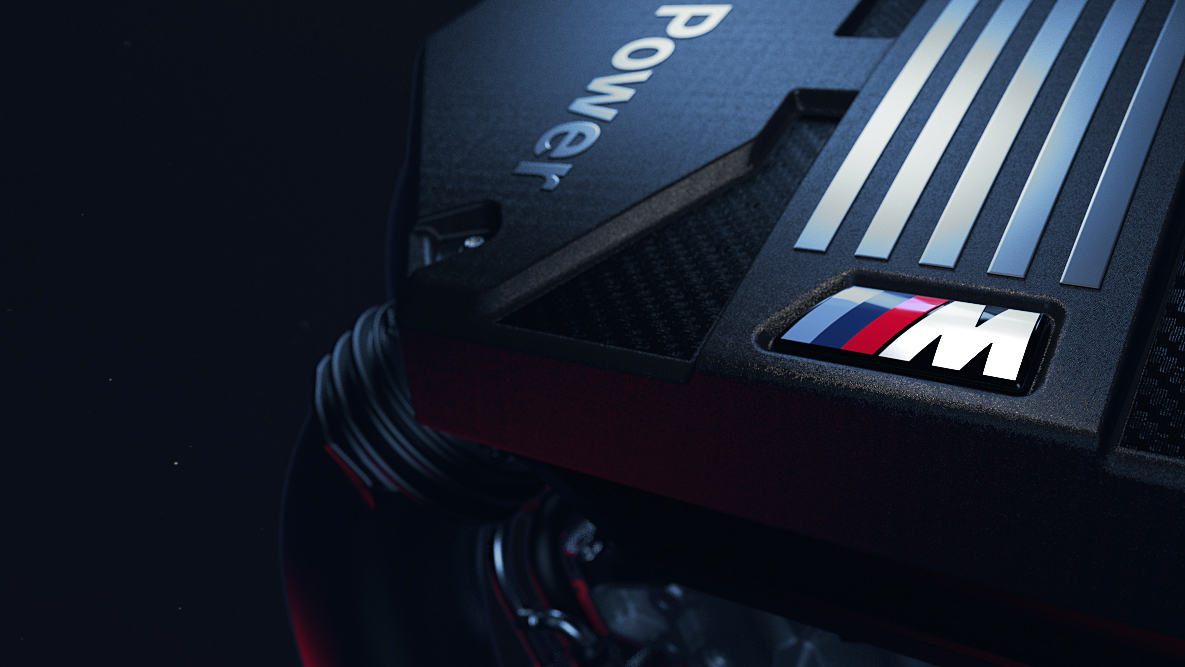 HIGH-PERFORMANCE M TWINPOWER TURBO 6-CYLINDER PETROL ENGINE.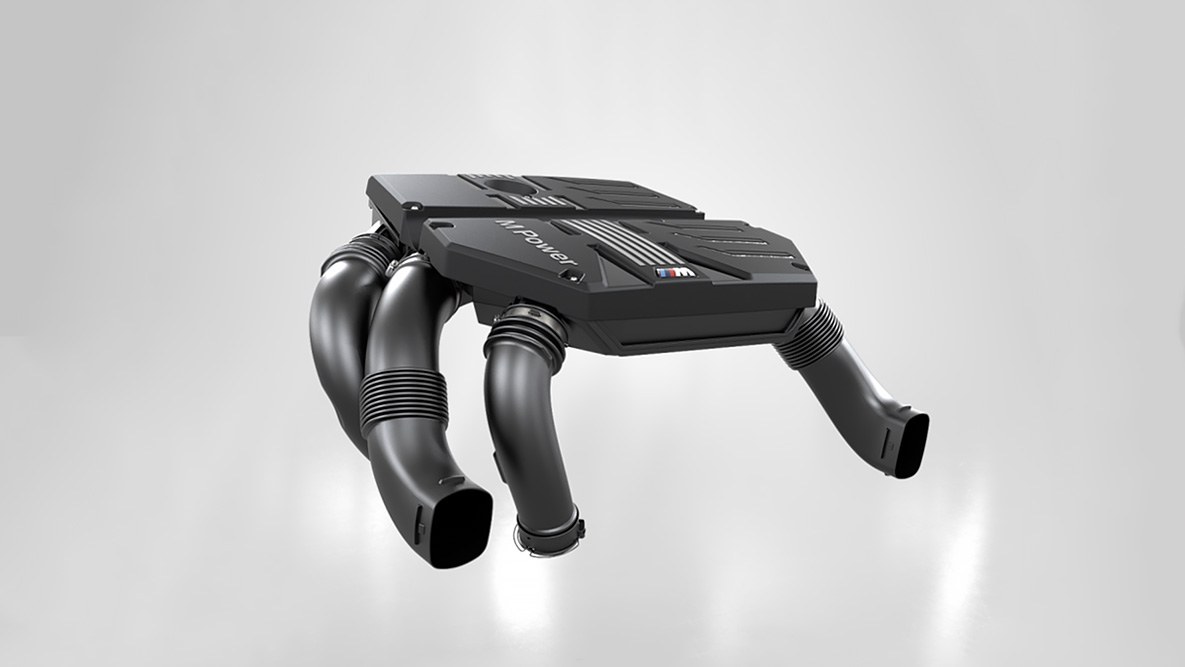 INTAKE AIR DUCTING.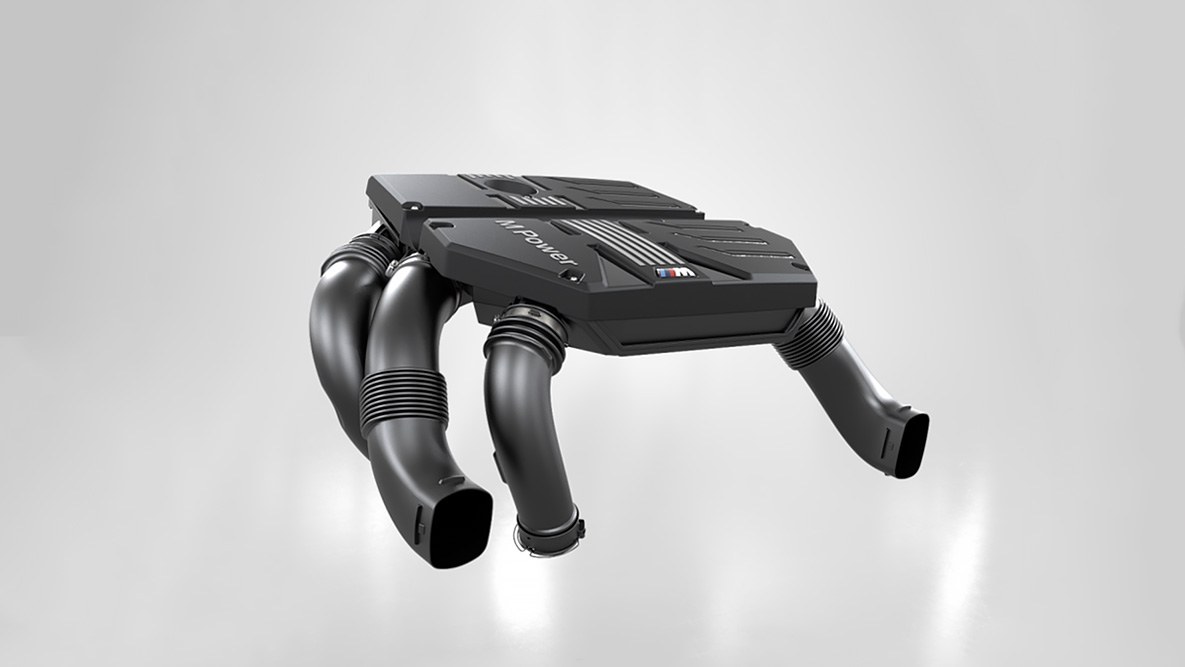 INTAKE AIR DUCTING.
The intake air ducting for the M TwinPower Turbo engine has been optimised for minimum pressure loss and ultra-low flow resistance. That leads to even better response characteristics and and high efficiency.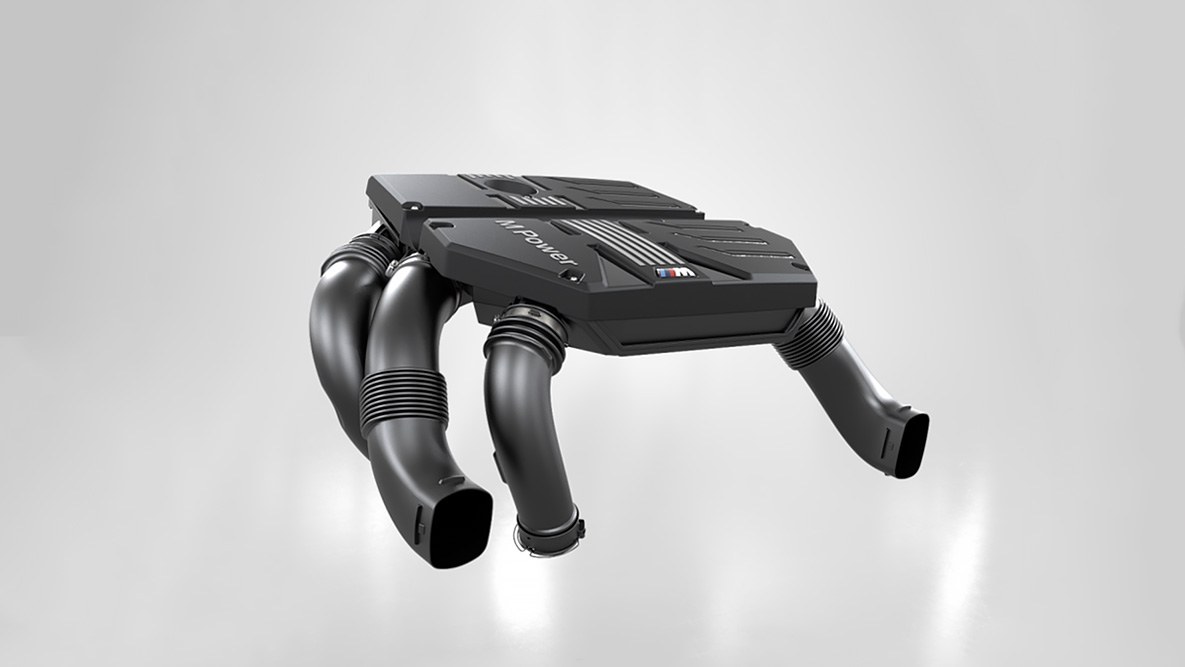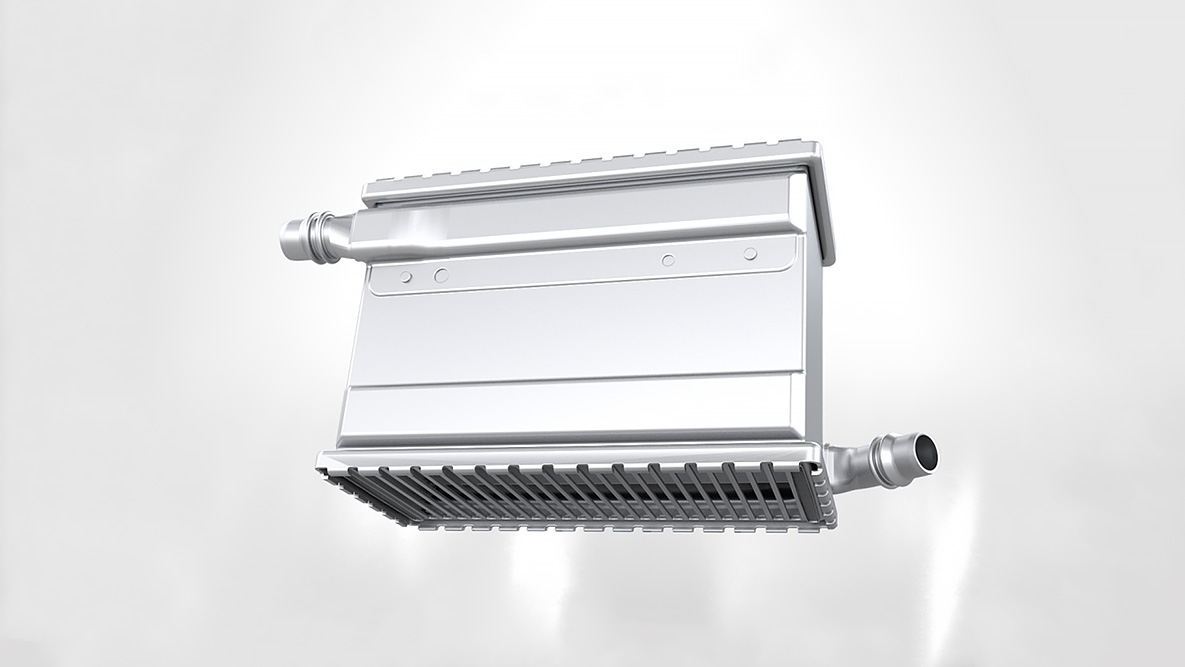 INDIRECT INTERCOOLING.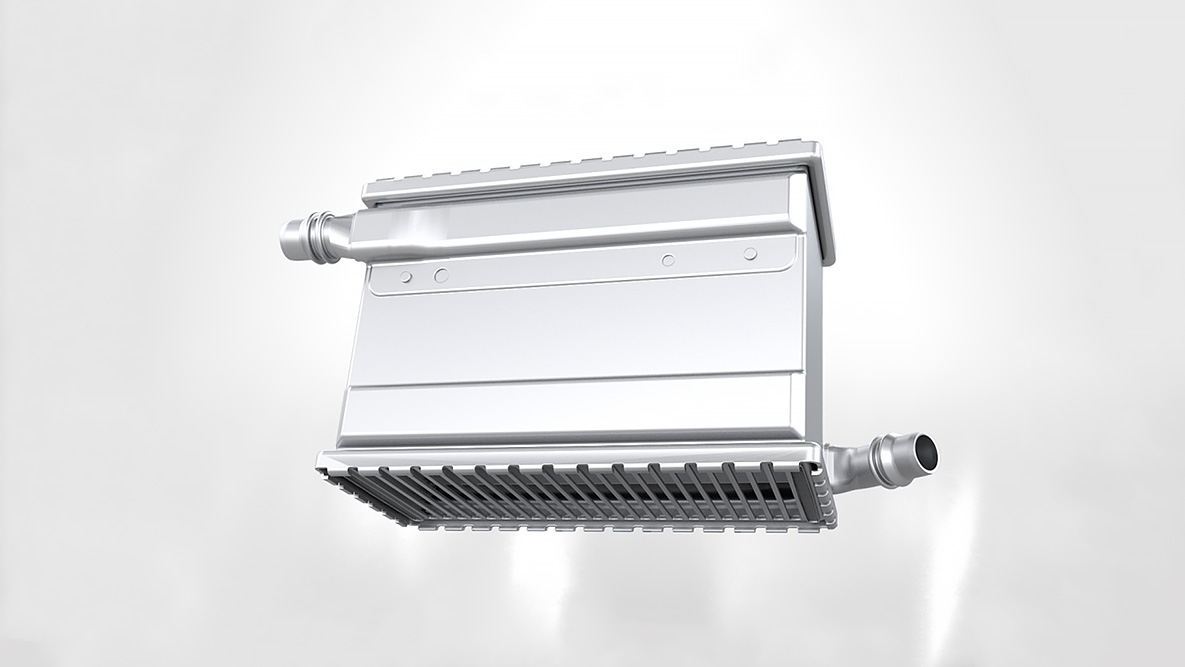 INDIRECT INTERCOOLING.
Indirect intercooling is an important component of the performance-optimised cooling system. Along with components such as the engine and transmission cooling system, intercooling guarantees optimum power delivery during supercharged operation. This keeps the engine unreservedly fit for the racetrack and also supremely dynamic, free-revving and durable.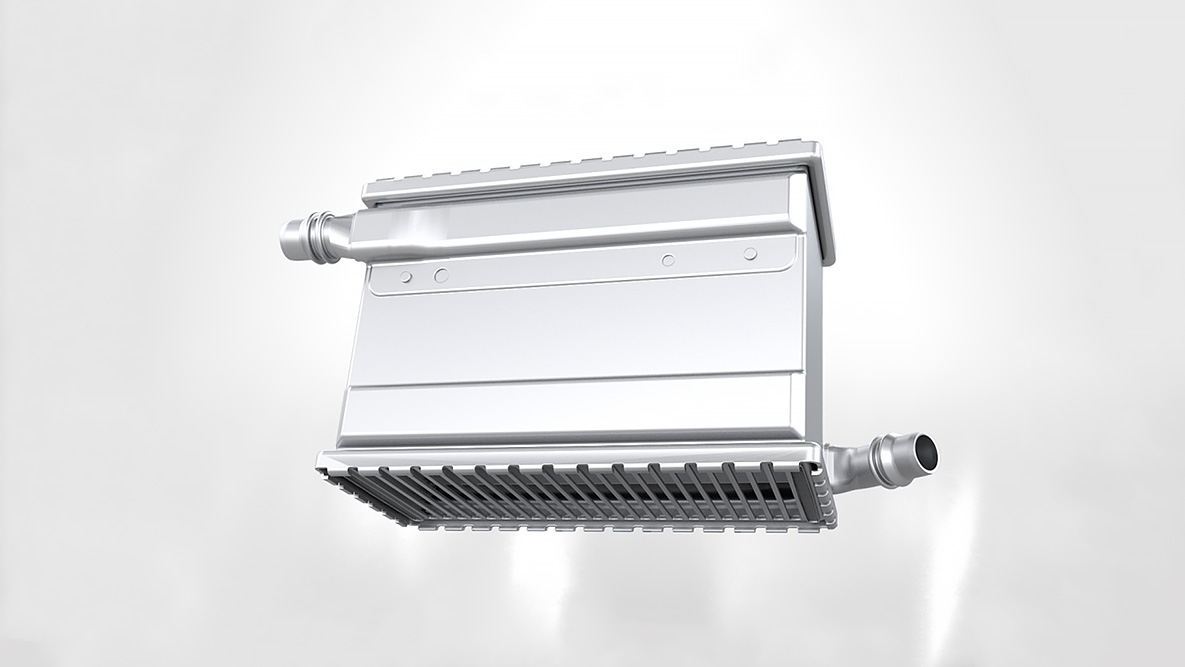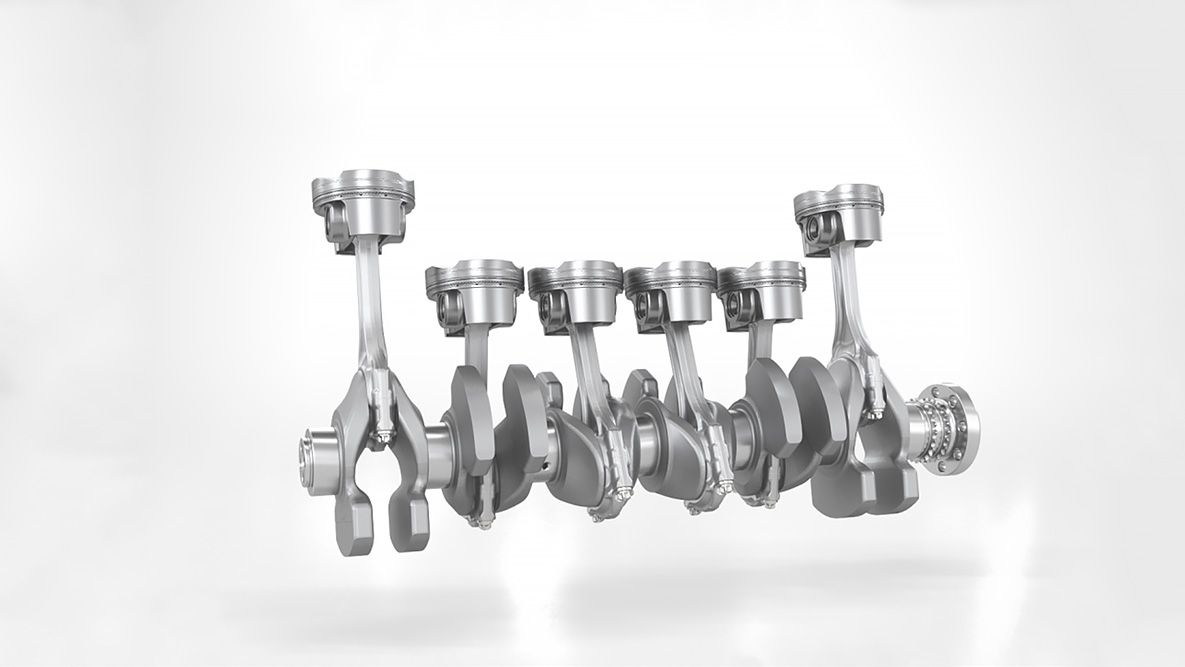 CRANKSHAFT DRIVE AND FORGED PISTONS.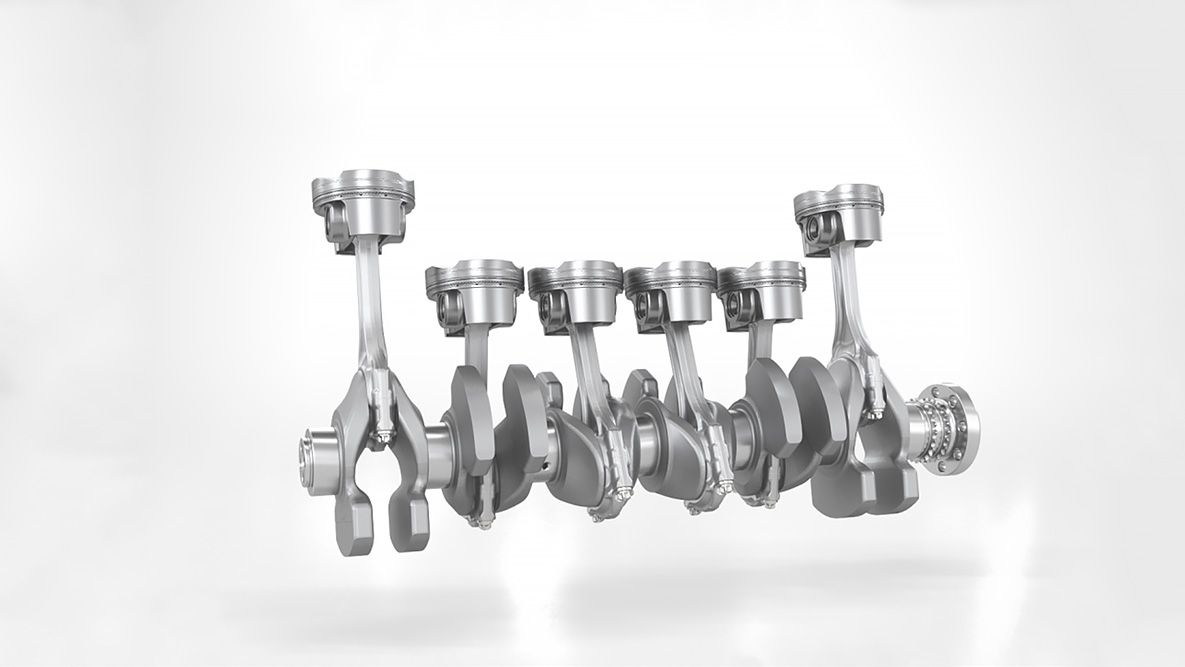 CRANKSHAFT DRIVE AND FORGED PISTONS.
The weight-optimised crankshaft drive permits maximum and stable power delivery on the racetrack – up to the highest engine speeds. Contributing to this are similarly weight-optimised and high-strength components such as the crankshaft and forged pistons.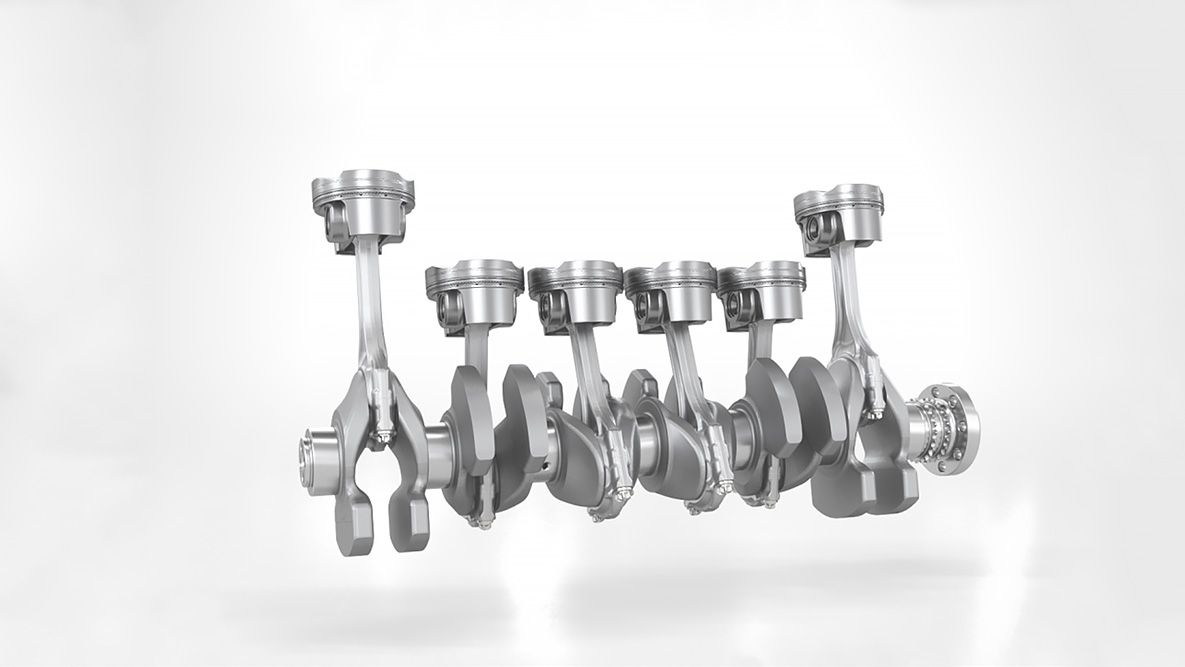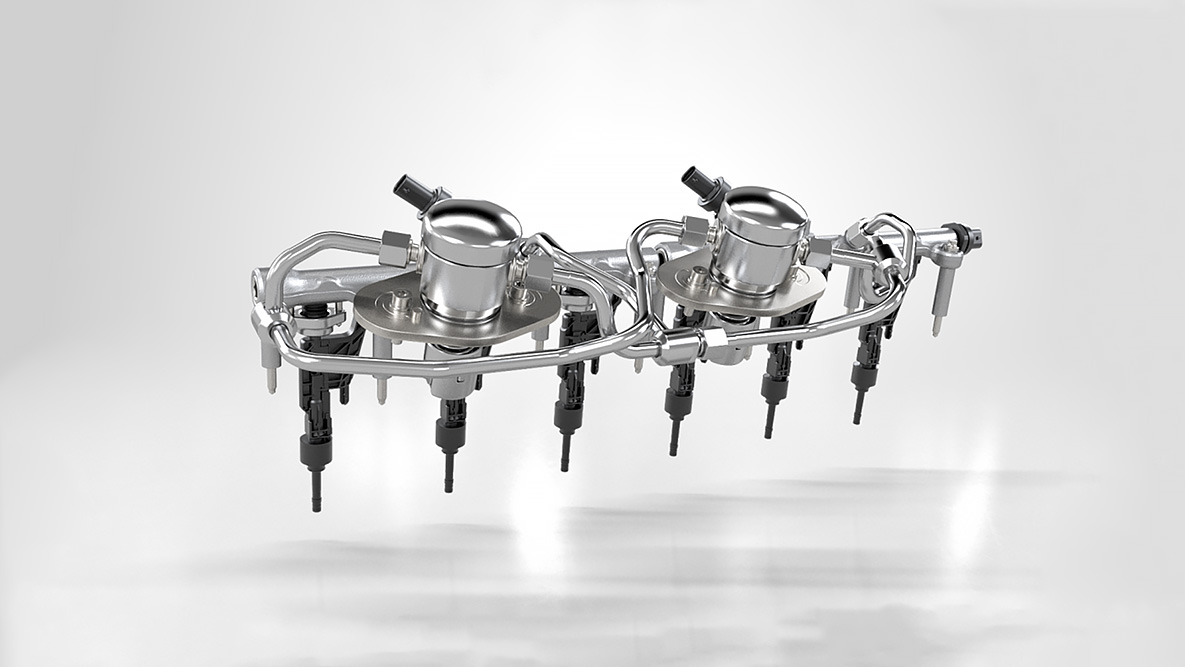 HIGH-PRESSURE INJECTION.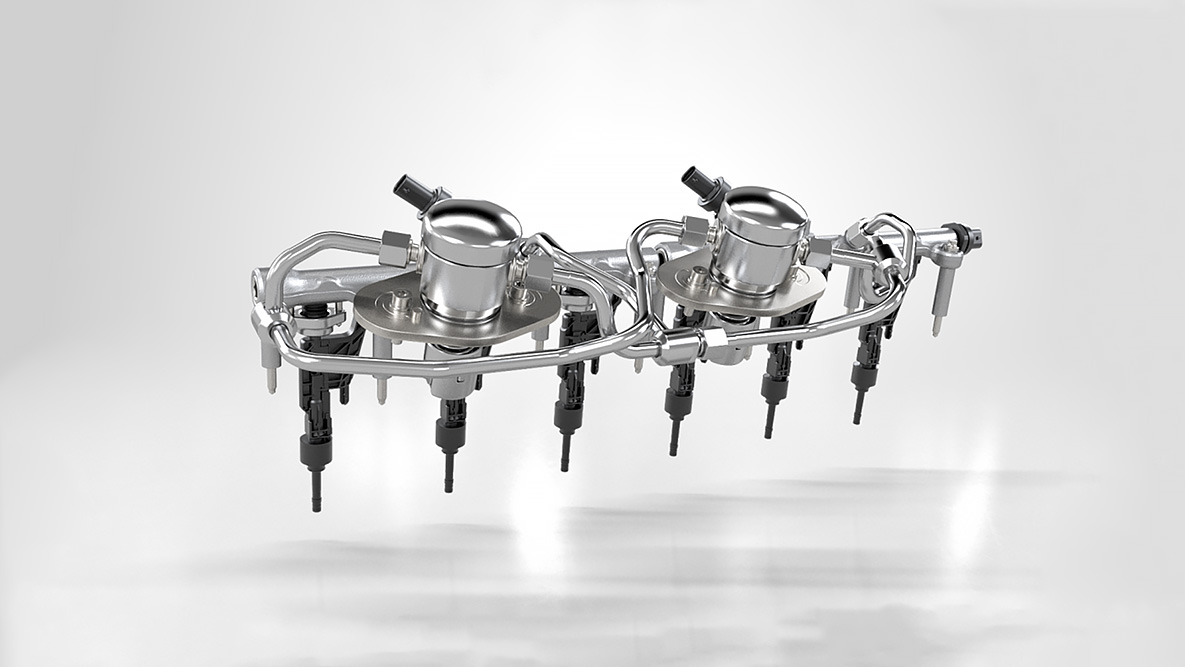 HIGH-PRESSURE INJECTION.
For maximum power output and optimised combustion of the air-fuel ratio, the engine's injection pressure is a high 350 bar. The high pressure improves fuel atomisation and mixture preparation, thus optimising fuel consumption and emissions. At the same, fuel film formation on the cylinder walls decreases and injection times fall.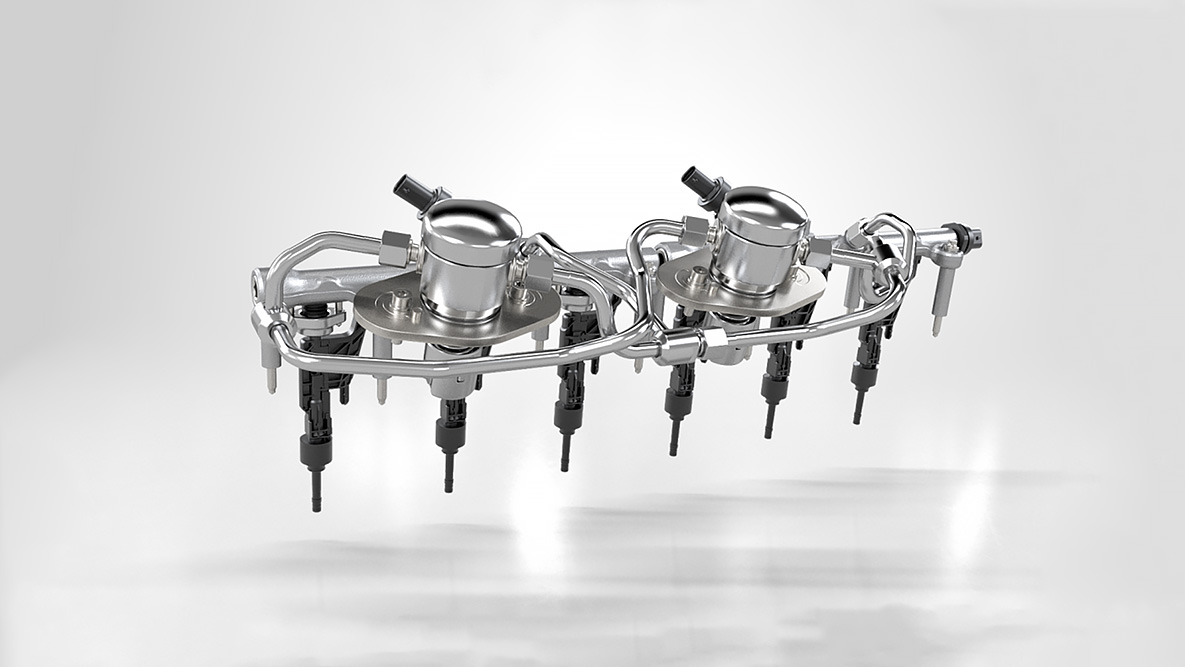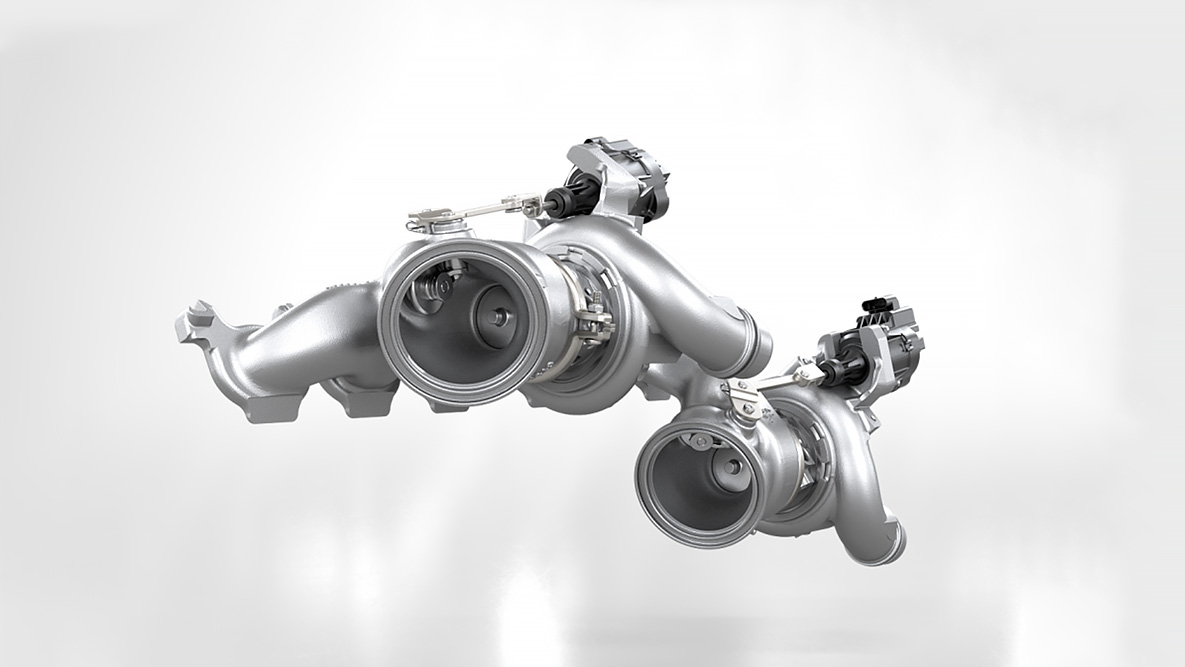 M TWINPOWER TURBO TECHNOLOGY.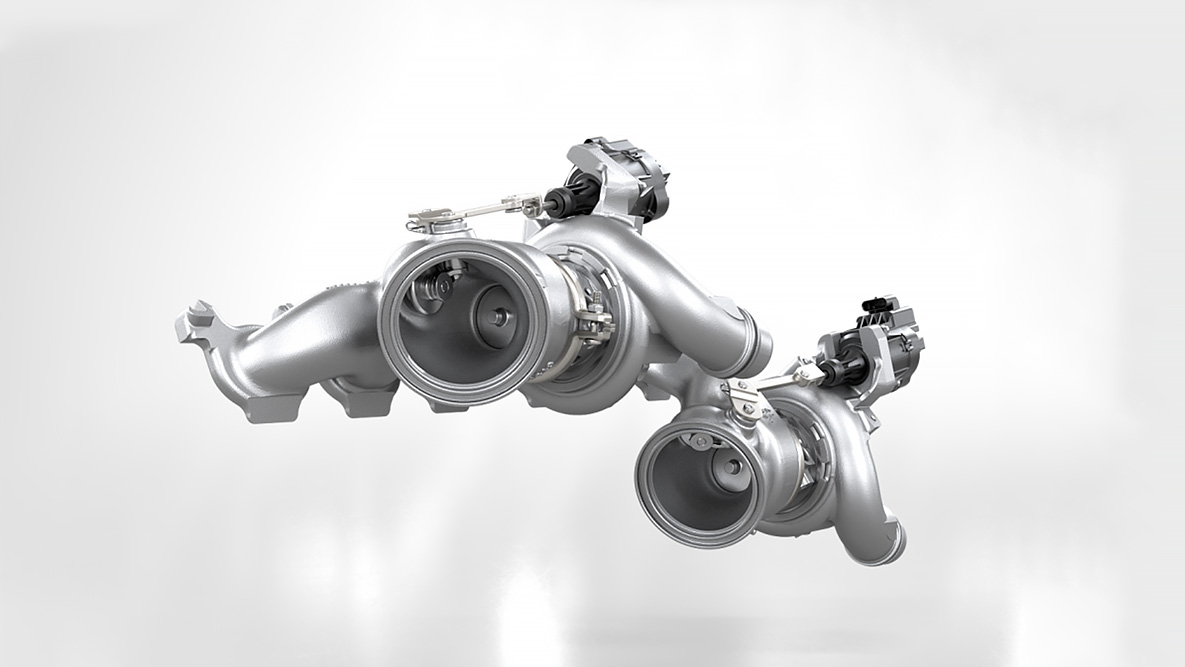 M TWINPOWER TURBO TECHNOLOGY.
The high-performance engine's two exhaust turbochargers are key to its effectiveness. They increase the intake pressure and consequently the engine's output. In tandem with the flow-optimised boost pressure control and indirect intercooling, the result is a swift, dynamic response and high torque even at low revs.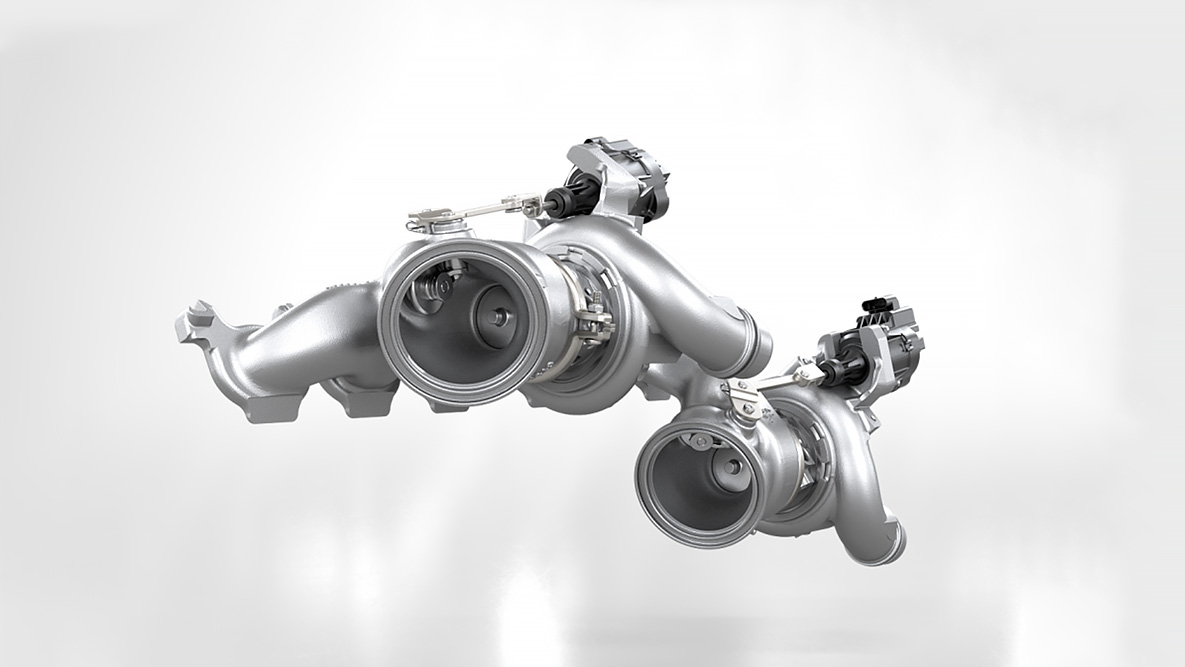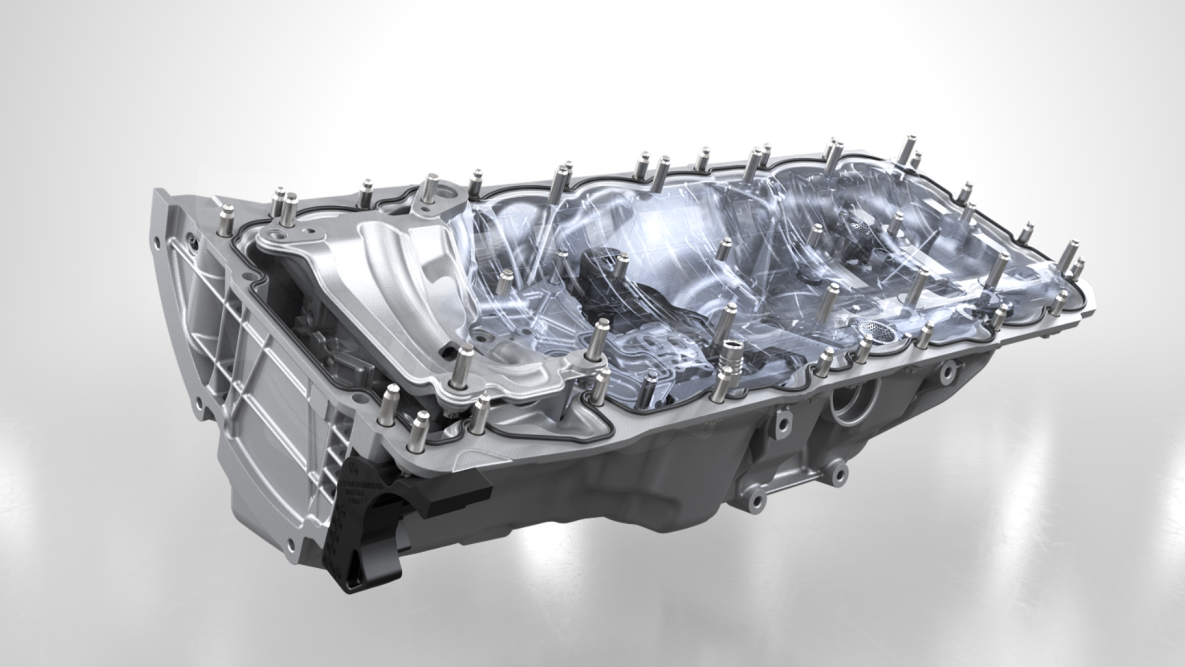 OIL SUPPLY.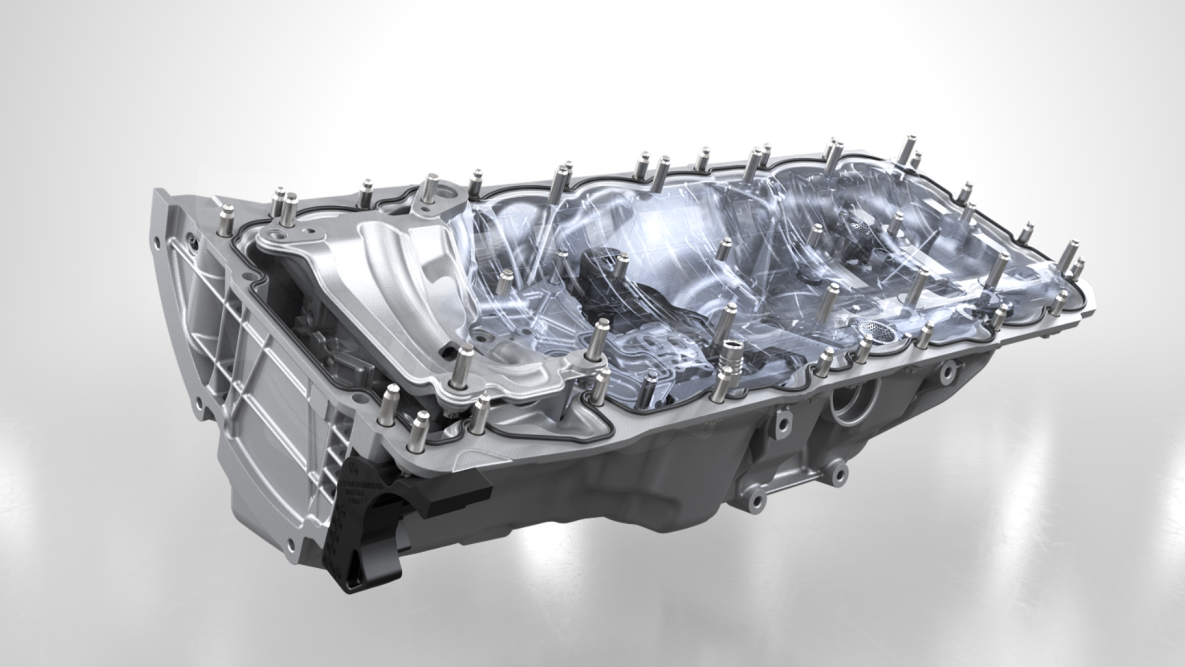 OIL SUPPLY.
The engine's oil supply, too, is determined by the high-performance principle. Optimised for transverse dynamics, the oil sump with windage tray and active suction equips the car for racetrack notably increased longitudinal and transverse dynamics of up to 1.4 g. For optimum dynamics, the lubrication is governed fully variably by a map-controlled pump. At the same time fuel consumption and CO2 emissions decrease.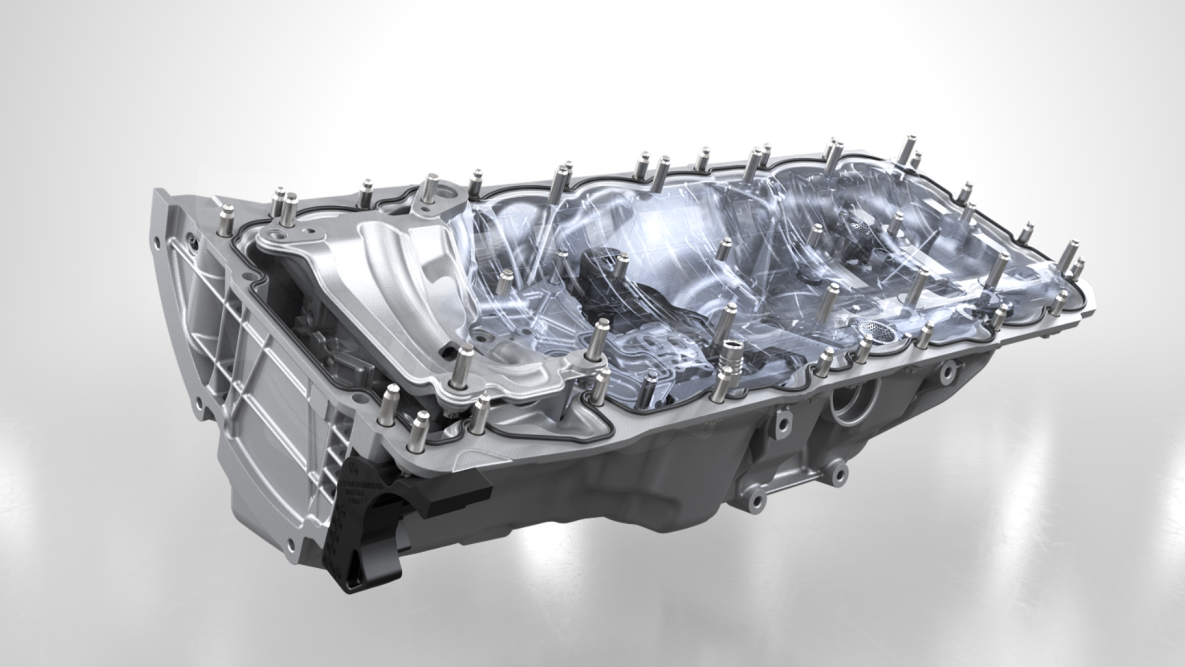 DESIGNED TO THRILL.
From the authoritative front end with its powerful air intakes, via the distinctively horizontal shoulder line, right up to the striking rear apron with diffusor in honeycomb look, athletic proportions and M design elements declare the performance potential of the BMW X3 M Competition at first sight.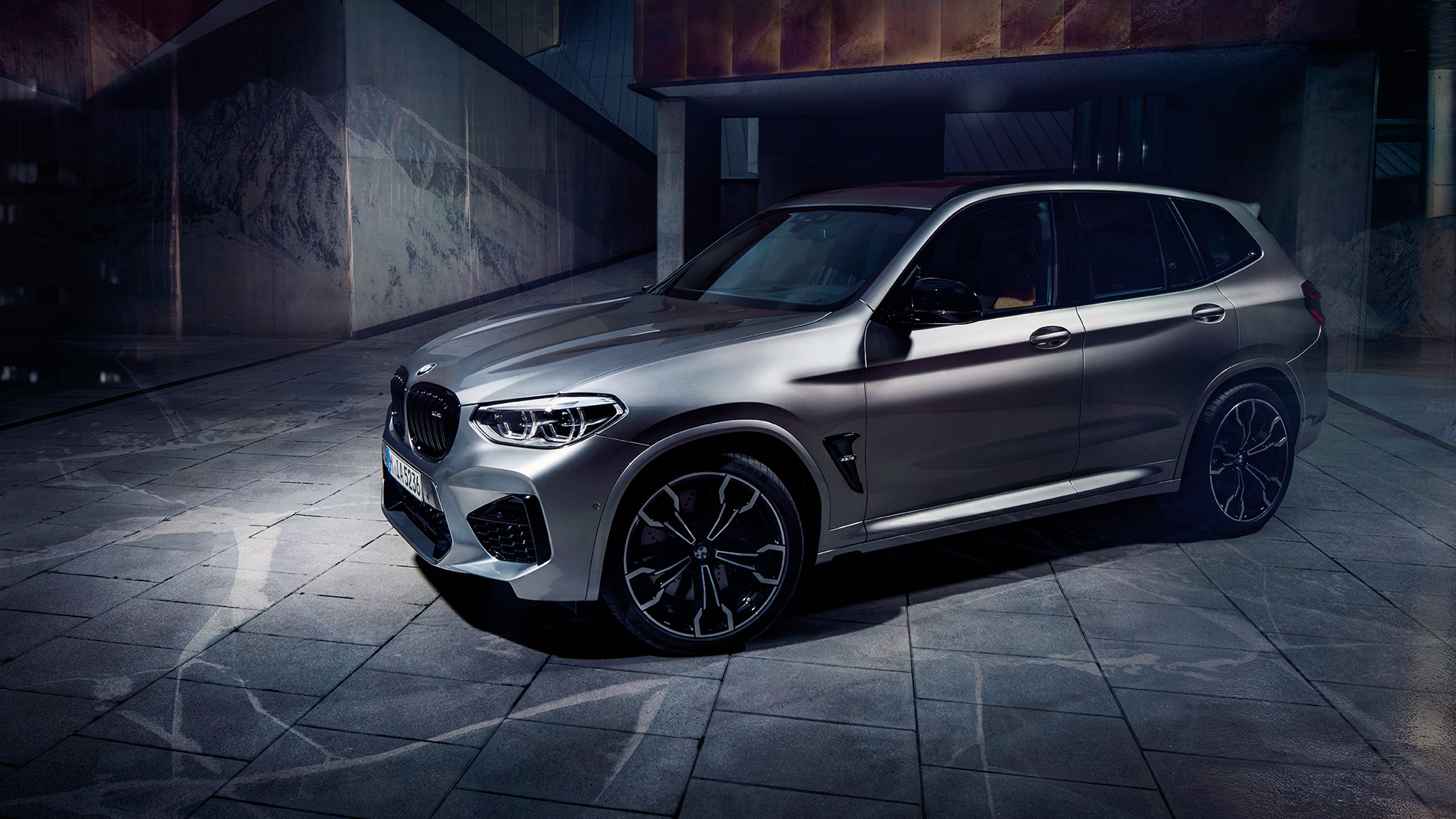 PREPARED FOR PERFORMANCE.
The exterior of the BMW X3 M Competition underlines the vehicles dynamics and outstanding performance from every perspective.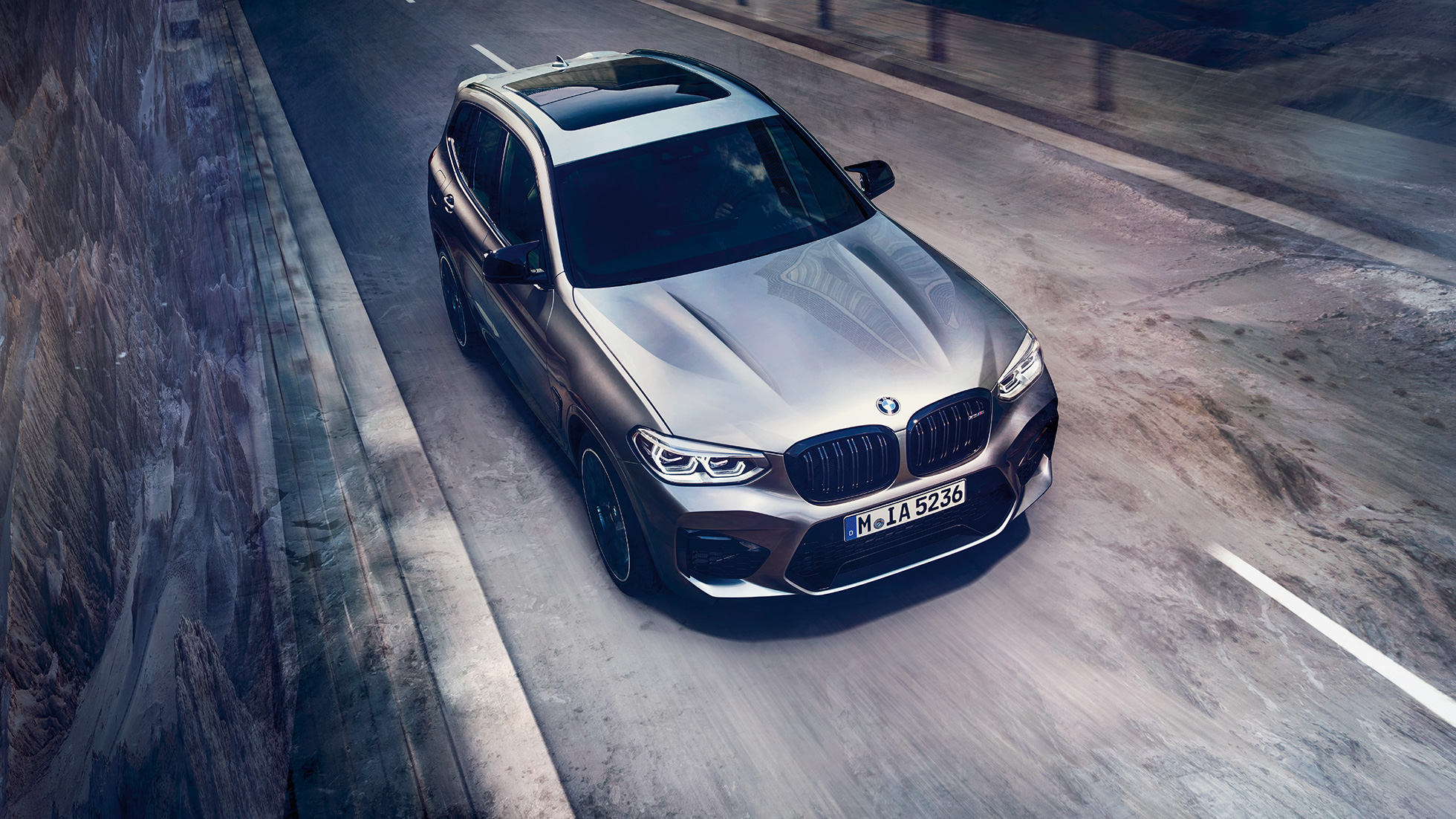 EXCLUSIVENESS.
Striking design features emphasise the exclusive sportiness of the BMW X3 M Competition.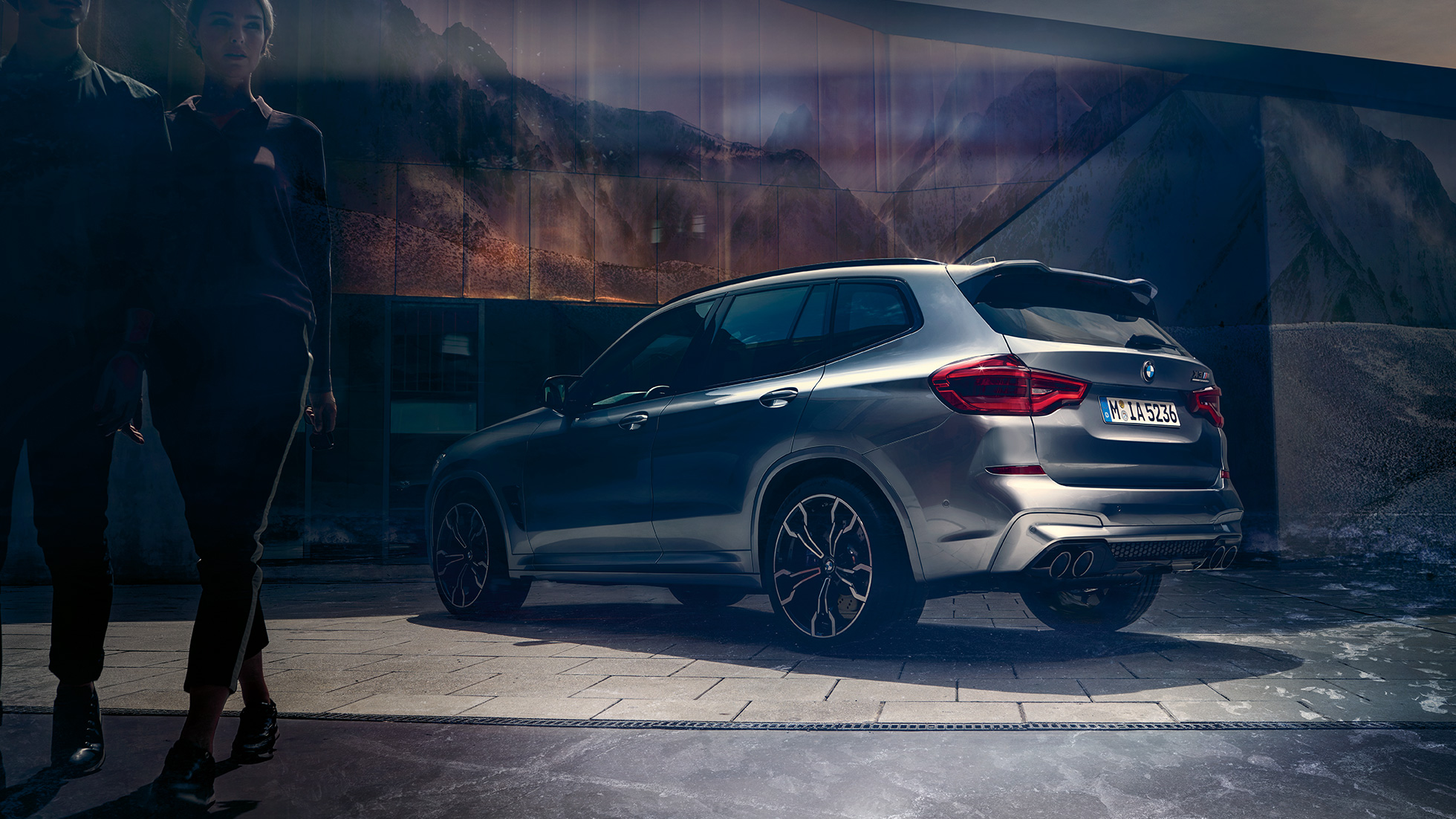 EXPRESSIVE POWER.
The impressive rear view with M specific roof spoiler, four 100 mm tailpipes and distinctive rear apron with M diffuser in honeycomb look.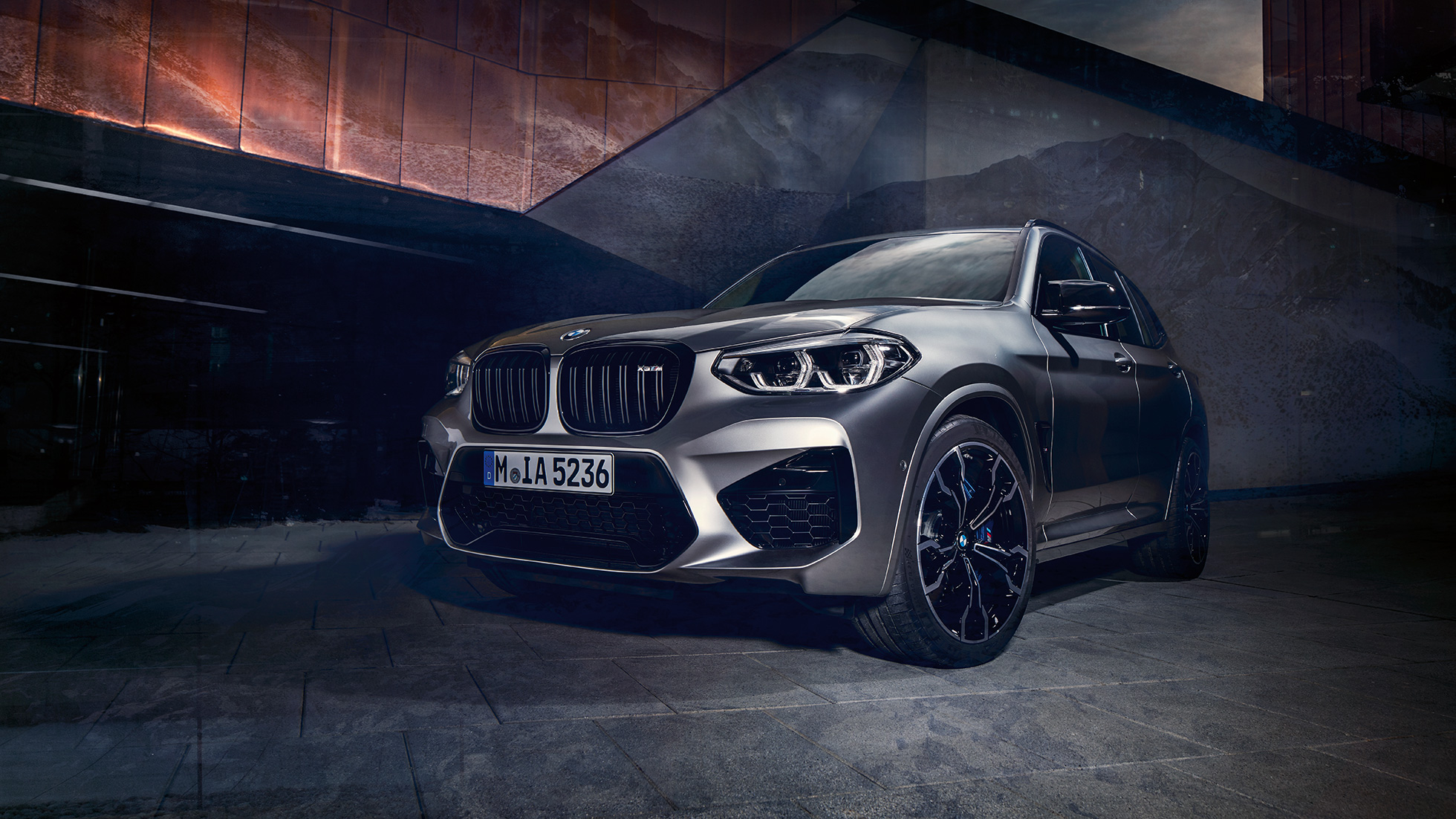 AUTHORITY.
The front apron of the BMW X3 M Competition with its sculptural design sums up all technical requirements in a clear visual message: absolute performance.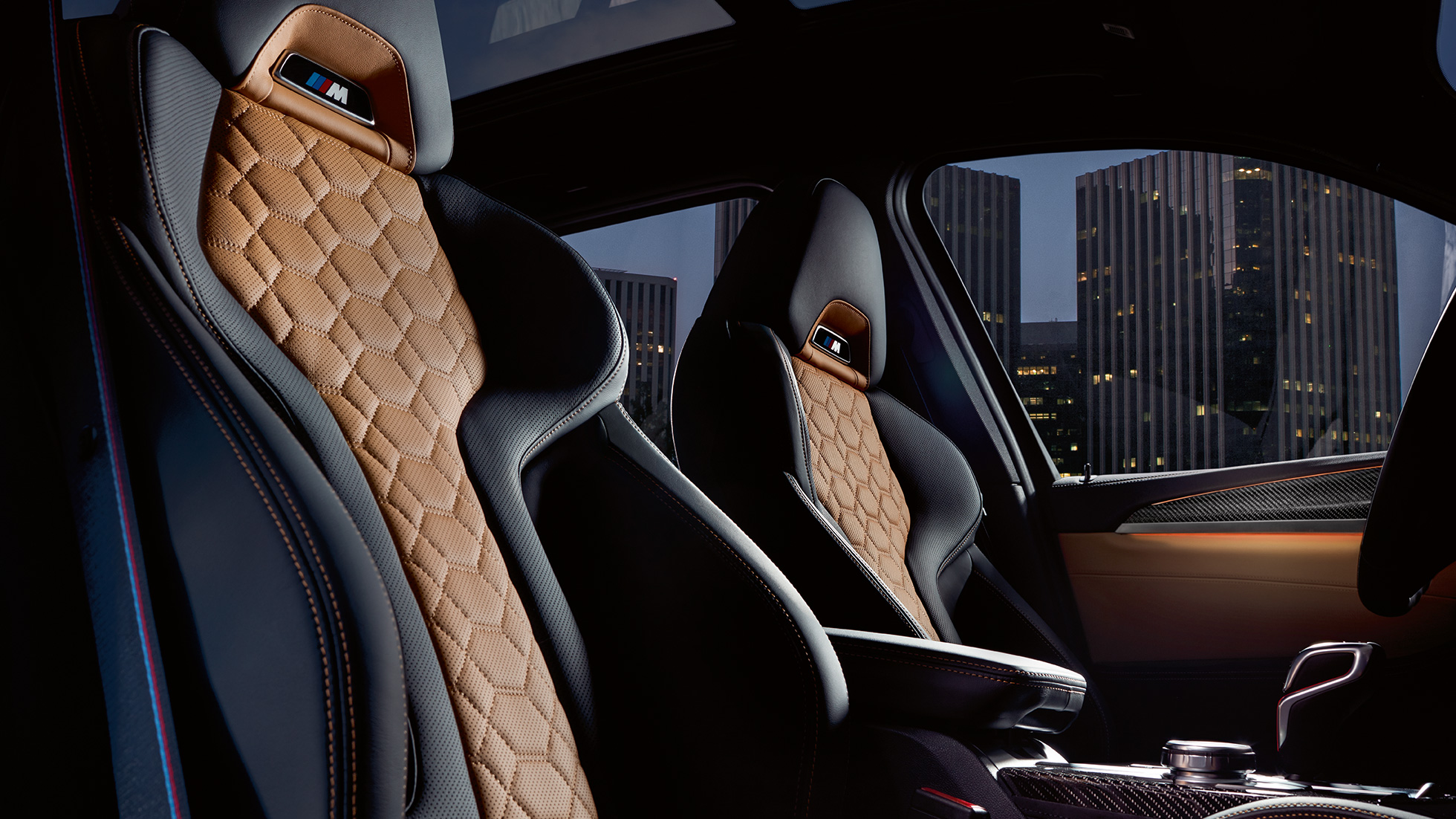 AMBITION.
The exclusive sportiness of the BMW X3 M Competition is highlighted by the ergonomically optimised M Sport seats in finest 'Merino' leather with Alcantara applications. (The M seat belts shown above are expected to be available from 8/2019.)
​
**Values will vary depending on vehicle specification, trim level and optional equipment selected. Vehicle performance figures shown are for base model.

† The recommended on the road (OTR) cash price includes delivery, BMW Emergency Service, number plates, first registration fee and vehicle excise duty. Where applicable, government grants and subsidies are not included in the OTR cash price displayed.